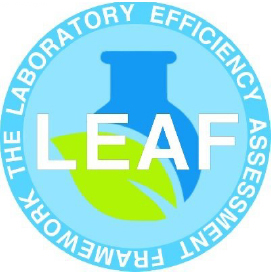 Join the Laboratory Efficiency Assessment Framework (LEAF) 2022 program to help improve the sustainability and efficiency of your laboratories.
In 2021, five labs in UNSW Science became the first in Australasia to receive LEAF certification as part of the UNSW LEAF pilot program. Following the success of the pilot, Estate Management decided to expand the program to the entire University.
LEAF is an internationally recognised certification that helps build a culture of sustainability with improved engagement and collaboration with labs around the world. The LEAF framework is hosted on an online software platform developed by University College London to improve sustainability in labs. 
LEAF has quickly spread in the higher education sector and is now used across 12 countries and 70 institutions including Oxford, Cambridge, Imperial, University of Exeter and many more.
In a pilot program of LEAF in the UK, involving 235 lab groups, LEAF prevented 648 metric tonnes of CO2 from being emitted into the atmosphere. The labs in the UK also gained a financial benefit, energy savings and decreased waste production. By participating you can do the same and be supporting UNSW in achieving its Environmental Sustainability Goals.
How does it work?
LEAF involves lab groups making small, achievable actions to cut down their environmental impact. These can include action on single-use plastic use, reducing energy-intensive processes, better management of waste and saving water.
When lab groups are ready, they can submit an accreditation request for an Institution Administrator to review and, if the group is eligible, the system will generate a certificate noting the accreditation level. Participating labs can progress through the levels from Bronze, through Silver to Gold, or directly apply to the level of their choice.
By using the in-tool calculators, LEAF produces comparable and quantifiable data on efficiency and sustainability, enabling baselines, targets and measures to be developed. Calculators are completed by team members before and after participation.
How to participate in LEAF
Anyone working in labs or workshops at UNSW can organise a team to take part in the program. You can cover a research group within a lab, a whole lab, or a group of labs.
The LEAF certificate will include the year it was awarded and depending on the needs of the lab, re-certification can be sought every one to three years.  The LEAF certification program will run from July to December 2022, with registrations open now.
More information
If you would like to participate and help improve the sustainability and efficiency of your labs, visit LEAF at UNSW or register here.  You can also contact Estate Management helpdesk for more information.